Dimethylhydantoin|CAS 77-71-4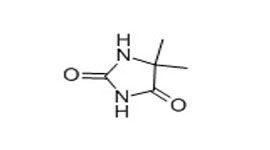 Product Information
Product Name: 5,5-Dimethylhydantoin
Molecular Weight: 128.13
Synonyms: 2,4-Imidazolidinedione,5,5-dimethyl-; 4-Imidazolidinedione,5,5-dimethyl-2; 5,5-dimethyl-4-imidazolidinedione; 5,5-dimethyl-hydantoi; 5,5-Dimethyl-imidazolidin-2,4-dion; 5,5-Dimethylimidazolidin-2,4-dione; Acetonylurea; Dantoin DMH
Appearance: White to off-white crystals or crystalline powder
Assay: 99%
Melting Point: 174-176°C
Flash Point: 193°C
Density: 1.142 g/cm³
Refractive Index: 1.449
Shelf Life: 12 months
Double Packing: the inner polyethylene bag sealing, outer plastic woven bag. 25 kg net weight for each bag; foreign trade export bags is also available 750 kg/bag, or according to customers' requirements.
5,5-Dimethyl hydantoin, CAS 77-71-4, is white crystalline powder, soluble in water, ethanol, ethyl ether, acetic ether, insoluble in fatty hydrocarbon and trichloroethylene, etc. 5,5-Dimethyl hydantoin, CAS 77-71-4, is also used as raw materials for epoxy resin, amino acid and sterilization disinfectant. Besides, it is also used in the synthesis for halogenated hydantoin. 5,5-Dimethyl hydantoin, CAS 77-71-4, should be stored in a cool, dry place. Avoid being placed with toxic and harmful materials, in case of being polluted. It should be noticed that it cannot contact your skin and eyes, thus, operators should wear protective clothing and goggles for fear of danger.
Factory Show