Custom Synthesis
Anyang General Chemical Co., Ltd is proud of being able to provide its valued clients with the chemistry expertise that their projects demand. Over the years, We have developed chemistry expertise by undertaking a large number of diverse projects. Customers will often supply a known synthetic route but our chemists also always use their own expertise and knowledge to devise innovative solutions or improve synthetic routes to provide a higher quality end product. Up to now, we have established a complete custom synthesis procedure based on our experience.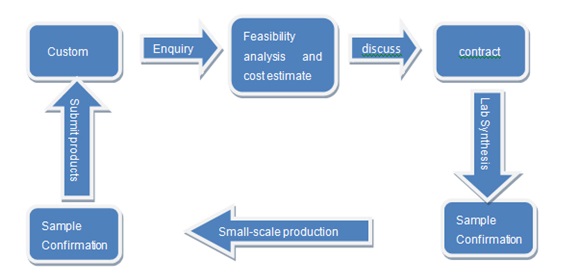 We offer the following:
Research and development of synthetic pathways for the production of the most complex molecules
Full literature searches, ensuring that the most efficient synthetic route has been created and optimized
Small-scale and large-scale chemistry capabilities - From milligrams to multi-kilograms, we can take your projects from idea to production
A fully-equipped synthetic and analytical laboratory, able to handle complex distillations, purifications, and scale-ups


Typical Custom Requests Include:
Small Molecules
API's
Complex Intermediates
Reference Compounds

In-House Synthetic Chemistry Services Include:
Chiral Chemistry Expertise
Polymer Chemistry Expertise
Air-Sensitive and Moisture-Sensitive Chemistry Expertise
Metal-Mediated Reactions
Reductions
Hydrogenations
Grignard Reactions
Multi-Step Syntheses
Scale-Up to Multi-Kilo Quantities

Outstanding service - We keep you up to date on the progress of your projects every step of the way!