Levulinic acid|CAS 123-76-2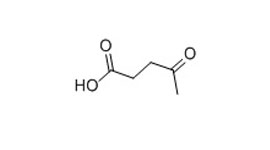 Product Information
Product Name

: Levulinic acid

Molecular Weight

: 116.12

Synonyms

: 2-Acetopropionicacid; 3-acetyl-propionicaci; 3-Keto-n-velericacid; 4-Keto-n-valericacid; 4-Oxo-pentanoic acid (levulinic acid); 4-oxo-pentanoicaci; 4-oxovaleric; 4-oxo-valericaci; (4-Ketopentanoic acid; 4-Oxopentanoic acid); 4-oxovaleric acid; laevulic acid; Levulic Acid; 4-Ketopentanoic acid; calcium bis(4-oxopentanoate); 2-methyl-3-oxobutanoic acid; sodium 4-oxopentanoate; 4-oxopentanoate

Appearance

: Colourless to light yellow transparent liquid or crystals

Assay

: 99%

Melting Point

: 33-35 ℃

Boiling Point

: 242.9 °C at 760 mmHg

Flash Point

: 115 °C

Density

: 1.1335 (20/4°C)
Levulinic acid, CAS 123-76-2, is soluble in water, alcohols reagent and esters reagent, insoluble in aliphatic hydrocarbon. It has hygroscopicity, the solution of which is of stronger acidity than acetic acid.
Levulinic acid, CAS 123-76-2, can react both as carboxylic acid and as ketone. It is derived from degradation of cellulose and is a potential precursor to biofuels. Besides, it can generate various chemicals through esterification, halogenating, hydrogenation, hydro-oxidation, as well as other chemical reactions. It is applied in the production of plastic modifier, pesticide intermediate, polymer and lubricating additive. Levulinic acid also enjoys applications in rubber production and chemical cosmetics. In pharmaceutical industry, Levulinic acid, CAS 123-76-2, is used to produce intravenous injections and nutritious drugs, which facilitates bone formation and keeps regular excitability of nerve and muscle.
Levulinic acid, CAS 123-76-2, is of low toxicity, which should be stored in cool, dry and ventilated place, kept away from sources of ignition. It is packed and transported in plastic drums with wooden cases reinforced.
Factory Show