Calcium Malate, fine dietary supplement|CAS 17482-42-7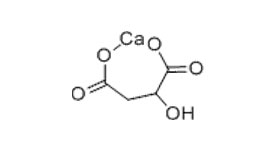 CAS NO.: 17482-42-7
EINECS No.: 241-498-1
Molecular Formula: Ca(C4H4O5)
Send Enquiry Now !
Product Information
Product Name: Calcium Malate
Molecular Weight: 172.17
Synonyms: CALCIUM MALATE; CALCIUM DL-MALATE; DL-MALIC ACID CALCIUM SALT; calcium 2-hydroxysuccinate;calcium 2-hydroxybutanedioate; DL-MALIC ACID CALCIUM SALT 95%; Calcium malate, 20.0-23.5% calcium; BUTANEDIOIC ACID, HYDROXY, CALCIUM SALT; 2-Hydroxybutanedioic acid calcium salt
Appearance: White powder / granules
Assay: 98%
Boiling Point: 306.4°C at 760 mmHg
Flash Point: 153.4°C
Vapour Pressure: 7.19E-05mmHg at 25°C
Packing: 25 kg / 50 lb. box/bag/drums; 500 kilogram bag
Calcium Malate, CAS 17482-42-7, can be used as a dietary supplement and a nutrient. Calcium is vital for strong bone and teeth formation. It also helps to maintain a regular heartbeat and transmission of nerve impulses. Calcium Malate, CAS 17482-42-7, should be stored in a clean, dry warehouse in the original unopened containers.
Powder

Code20101

Granular

Code20102

Assay (% Ca on as-is basis)

20.0-23.5%

20.0-23.5%

Heavy Metals

0.002% max

20 ppm max
Arsenic (As)
3 ppm max
3 ppm max
Lead (Pb)
10 ppm max
10 ppm max
LOD (4 hr @ 150° C)
5% max
5% max
Calcium Content
20.0-23.5%
20.0-23.5%
Bulk Density (Loose)
According to Customer Requirements
Particle Size
According to Customer Requirements
Factory Show