Manganese(II) Citrate|CAS 10024-66-5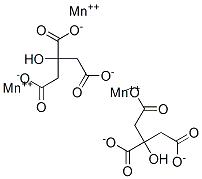 CAS NO.: 10024-66-5
EINECS No.: 233-027-3
Molecular Formula: Mn3(C6H5O7)2·10H2O
Send Enquiry Now !
Product Information
Product Name: Manganese(II) Citrate,
Molecular Weight: 723.17
Synonyms: 2,3-propanetricarboxylicacid,2-hydroxy-manganesesalt; MANGANESE CITRATE;MANGANESE CITRATE DECAHYDRATE; MANGANESE CITRATE HYDRATE; citric acid, manganese salt; MANGANESE CITRATE BP 31% AS MN; 1,2,3-Propanetricarboxylic acid, 2-hydroxy-, manganese salt; MANGANESECITRATE,30%,POWDER
Appearance: Pale pink powder
Assay: 98 %
Packing: 25 kg / 50 lb. box/bag/drums; 500 kilogram bag
Specifications
Assay (dry basis)
96.5 - 104.8%
LOD
23.0 - 26.0%
Sulfate
0.02% max
Lead
2 ppm max
Cadmium
5 ppm max
Arsenic
3 ppm max

Particle Size

30 Mesh

100 %through

> 90% through

Manganese Content

Anhydrous Basis

Decahydrate Basis

29.3 - 31.8%

22.0 - 23.9%

Manganese(II) Citrate, CAS 10024-66-5, can be used as a nutrient and a dietary supplement. Manganese is important in the breakdown of amino acids and the production of energy. It activates various enzymes for proper digestion and utilization of foods. Manganese also helps nourish the nerves and brain and is necessary for normal skeletal development. Manganese(II) Citrate, CAS 10024-66-5, is flammable, which can release spicy stimulus toxic Manganese smog, thus, it should be stored in a clean and dry warehouse in a sealed container.
Factory Show